What kind of shade should I choose for the bedroom?
The right window treatment for a bedroom can be the difference between a place to rest your head and a sleep sanctuary. The question is, what kind of bedroom shades would work the best? There are a few things to consider, including how well the shades block light when your goal is complete darkness, and things like temperature control, or noise reduction. You also have to consider whether or not to preserve the view. Fortunately, the wide variety and selection of blinds on today's market mean your options are wide open to find the best shades for you and create a beautiful nights sleep.
Cellular Shades: Blackout and Energy Efficiency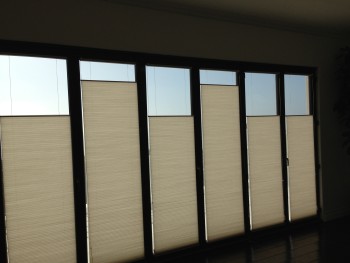 Cellular shades are a popular option because they feature a unique honeycomb construction that adds a layer of insulation, preventing heat loss and reducing outside noise. They also are great for areas in which extreme temperatures cause heat loss, and thus use up more energy, as the layer of insulation keeps your house warm through the night.
They also can feature a light-blocking system that is built directly into the shade and blends seamlessly with it. This side channel design features rows of specially shaped micro-ridges, optimized to absorb or deflect all incoming light while preventing the light from seeping into the room.
What's more is that you can combine the light-filtering fabric with the blackout fabric so you can always have the perfect amount of light in your room, day or night.
Roller Shades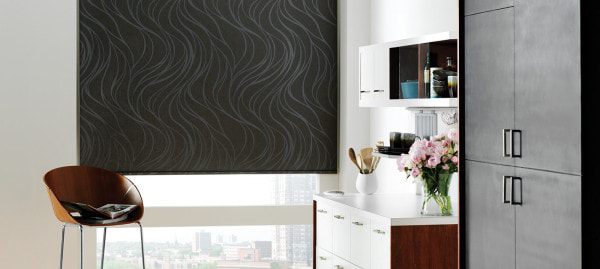 Roller shades are energy efficient and come in a huge range of opacities, patterns, textures, and colors. The best part is the blackout backing will block out most light, so you don't have to worry about unwanted light entering your room at night.
They can also offer UV protection so you can enjoy the view without the damaging effects of the sun's rays. They also will reduce any glare on your laptop or TV while protecting your furnishings. When raised, they disappear into the headrail giving you unimpeded view of the outside. You can also pair them with two fabrics so you can have two different kinds of opacities at any one time.
Roman Shades
This elegant look will give you the soft, rich look of drapery giving an atmosphere of calm and luxurious relaxation to your room. They come in a massive range of styles and have no exposed cords for a clean, crisp and safe appearance. They can fold flat or roll into the head rail.
They come in a massive range of fabrics and colors, in sheer, light-filtering and room-darkening opacities. You can even combine the two fabrics onto a single roller, so you can achieve the right level of light, night or day.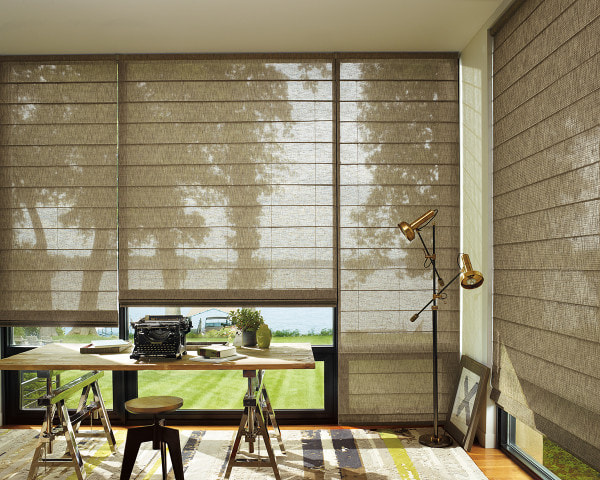 Window Sheers
Sheers are fantastic for getting a softly filtered look in your room. With a sheer shading, you can block all the light you want and still be able to adjust the ambient lighting. The vanes of the window treatment appear to float between the two panels of fabric. Simply tilt the vanes to create just the right level of light.
They are available to be paired with a room-darkening shade so you can choose what level of light you want. Indulge in the luxury of sheer window shades.
Combine Window Treatments with Drapery
Create a striking image and a relaxing atmosphere by combining drapery with window treatments, giving you insulation and privacy. The drapes are easy to switch out so you can always have them complementing the rest of the space. Contrast colors between the shade and the drape, or have a pattern give texture and dimension to space.
Whatever window treatments you choose, just try to keep a good balance between fashion and functionality, because no matter how beautiful you want your bedroom to be, sleep is of the highest importance.